While I am off having adventures in Japan, I have asked some of my friends to help me out by bringing you some fun projects and cocktails. Today's Tipsy Tuesday cocktail is from Erin of House of Earnest.

Erin describes her style as
"
simple, natural, rustic and slightly modern," and her lovely, lovely site is a
testament
to that. On House of Earnest, she shares her take on
beautiful interiors
, tips for
party planning and styling
, and some of
the classiest DIYs around
. Some of my personal favorites are t
his amazing DIY table runner
(inspired by a bathroom wall, no less), these
gorgeous powder room finds
, and the
beautiful
styling in posts like this one.
Enjoy! --Mandy P.
--------------------
Hi! I'm Erin from
House of Earnest
- here to share with you a spunky little fall drink today. Firstly, thank you so much to Mandy for having me post a little Tipsy Tuesday recipe while she is traveling in Japan.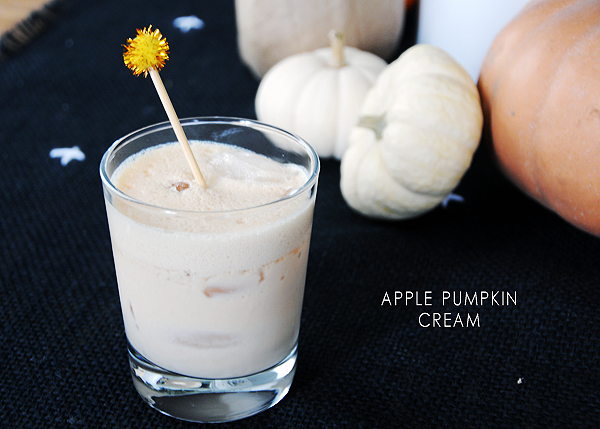 I am a firm supporter of anything pumpkin-flavored and when I happened upon some pumpkin pie liqueur at the grocery store last weekend, I knew I had to do something with it! My brain went immediately to an alcoholic pumpkin spice latte (which would be awesome), but I wanted to show you guys another option for the creamy treat. I think ginger ale can go with just about any tipsy treat, but the addition of a tart apple cider makes a big difference in this drink.
Read on for the full recipe.
If you like White Russians, you'll love the sweet and spice of an Apple Pumpkin Cream. The drink takes one part pumpkin pie cream liqueur, one part apple cider, and one part ginger ale. Mix together and serve over ice for the perfect Fall treat. If you're not a huge fan of creamy drinks or cannot find this particular liqueur, mix together a little pumpkin puree and some vanilla vodka for a similar flavor.